Staff
The team of professionals at Capra & Cavelli possesses a depth of experience unparalleled in Austin men's fashion. Our commitment to delivering the highest level of personalized service never wavers. Nor does our belief in the importance of customer relationships. We're from Austin and we know what it takes to look good here.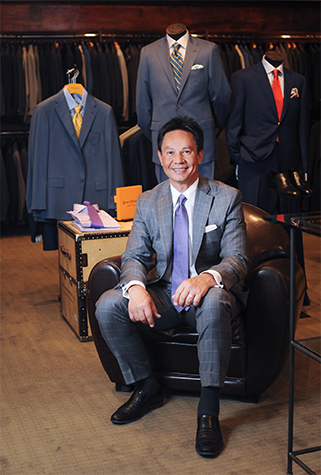 Buddy has over a twenty years of experience in custom clothing, and owned his own retail shops in Austin and Midland. He has a proven ability in wardrobe creation and prides himself on exceptional client care. Buddy and his wife have a son who graduated from Texas A&M University and works for Dell Technologies. Buddy enjoys wakeboarding, motocross, auto sports, snow skiing, and family related activity. One of Buddy's passions is serving clients via "One on One" appointments in the comfort of their home or office.
---
Buddy Estrella
Midtown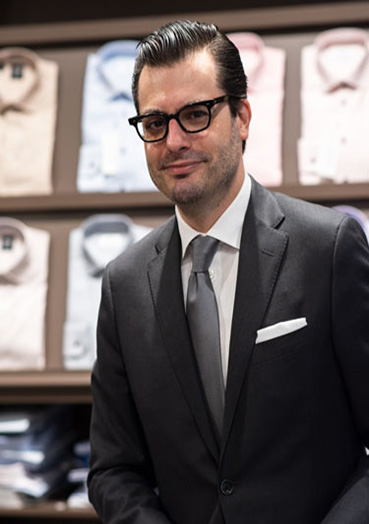 Originally from Croatia, Ivan has had a lifelong passion for classic menswear, most recently working at Nordstrom's. He came to Austin in 2010 by way of Minnesota and New York City, and had a 20 year career as a record producer and musician. He still enjoys playing music and spending time with friends, family, his girlfriend and her dog Harley.
---
Ivan Vuk-Pavlovic
Midtown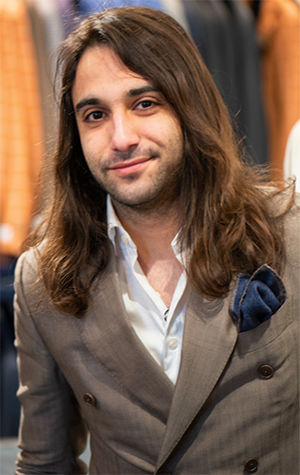 Anthony brings nearly a decade's worth of experience to Capra & Cavelli, and was recently employed by the New Orleans' iconic menswear shop, Rubensteins. Anthony has a passion for custom clothing, styling, and wardrobing. He enjoys mixing elements of modern fashion and classic style to create outfits that are trendy yet timeless. When he's not at the store, Anthony can be found playing drums with his band, Blonde Roses; relaxing with his wife and dog, and traveling.
---
Anthony Mikhael
Midtown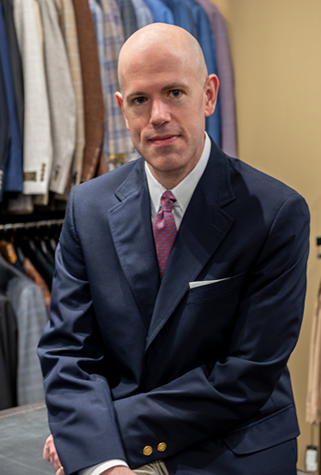 Russell is an Austin native, and co-founder of the downtown Brazos Barbershop. He enjoys the classic men's dressing style and is the author of Capra's blog "Flicks on Fire" featuring movies where dressing well is an integral part of the story. Russell looks forward to assisting his clients develop their own clothing style.
---
Russell Firestone
Midtown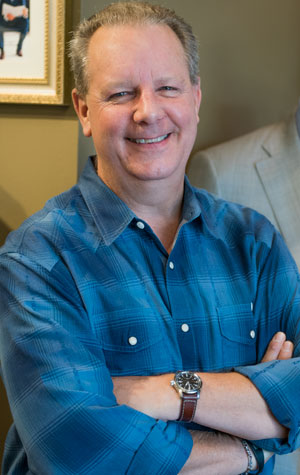 Brad has been assisting Austin men with their clothing needs since 1979. He previously owned his own neckwear business, and his background extends into all facets of menswear, including sales, management, and custom clothing. Brad is married with 3 great kids, a grand baby, and is a huge UT fan. He cycles, plays golf, and loves being with his family.
---
Brad Pharr
Hilton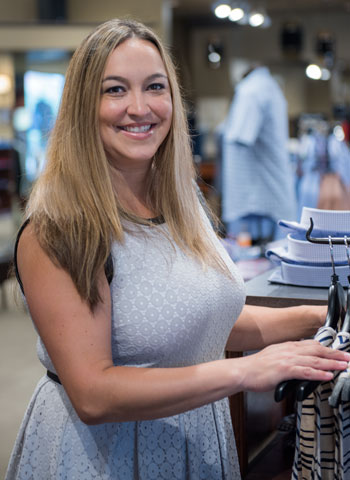 Sandy is our ladies clothing specialist and buyer. She has been working in the Austin better ladies clothing business for over 20 years and joined Capra & Cavelli about 10 years ago. Sandy's warm personality and experienced eye will keep you coming back to Capra & Cavelli. You will find her at the Midtown store on Mondays and the rest of the week at our lovely hotel boutique off the lobby of the Hilton Hotel. Sandy supports and encourages local Austin businesses and looks forward to your patronage at the locally owned Capra & Cavelli. Sandy enjoys spending time with her family, traveling, baking, and the Austin lifestyle.
---
Sandy Gist
Hilton
---
---
Reviews


"My fiancé purchased a custom suit for our wedding and we were very impressed with the service and knowledge of Anthony Mikhael. Anthony answered all of our eccentric questions and helped prevent us from making every fashion faux pas possible…my fiancé look[ed] like a million bucks. This place is top notch in every way and highly recommended!" – Tamara C.

"What can I say. Quality merchandise, friendly and courteous – extremely professional – just a great place to shop. Kenneth is the best, he is non pushy and extremely helpful." – Joseph B.

"Heard they have a great reputation, and now I know why: amazing service and attention to detail. Ivan was exceptional. This is our new first stop." – Stuart F.

"Buddy helped us pick out a nice custom suit. Not only is he so patient and easy to work with, he's also very knowledgeable and listens to his clients' needs. Quality service like that can't go unnoticed." – Mary L.

"Great little secret. Cool clothing/jewelry store embedded in the downtown Hilton…In addition to having a really tasteful selection for men and women, the service is the best! A special call out to Rene Rodriguez who made my night; fixed me right up with 2 great shirts – he was warm and got my number right away. Definitely check this place out." – Seth K.

"A wonderful boutique clothing store that had a wide variety of clothing and was well stocked. Sandy was an amazing resource and we stopped in twice during our stay to shop." – Mary G.

"I've never left a review for a shop before but literally have to now with the excellent service we received. We found this little gem on our adventuring in Austin! Found some awesome and unique souvenirs that I would have not found at a typical tourist shop…Brad, was so welcoming and friendly! He even went the extra mile to show us great places to check out during our stay here. If you are looking for a place with incredible selection, you have come to the right place! It is conveniently located in the Hilton by the Conference Center. Check it out! You will not be disappointed!" – Morgan M.
---
We're flattered to have been recognized by "Esquire Magazine" as one of the top 100 clothing stores in America. We've been featured on The Knot and named by "Austin American Statesman" as the A-List: Best Men's Clothing Store.
---
People love us on Google and Yelp! Read our reviews online by clicking the logos below: